This period is far from over. I'm wearing many hats here. Perhaps, taking on multiple roles at once is the blueprint of a typical modern, digital, future-proof company. One thing is for sure: with this many roles you'll never have two identical, boring days. Did I mention the various, sudden challenges that sometimes make planning ahead almost impossible? Yeah, I'm sure you've all had that part at some point at work too.
If you only have a minute or so I recommend checking out the video summary below. Otherwise, keep reading...
Let's see what kind of roles I'm representing here: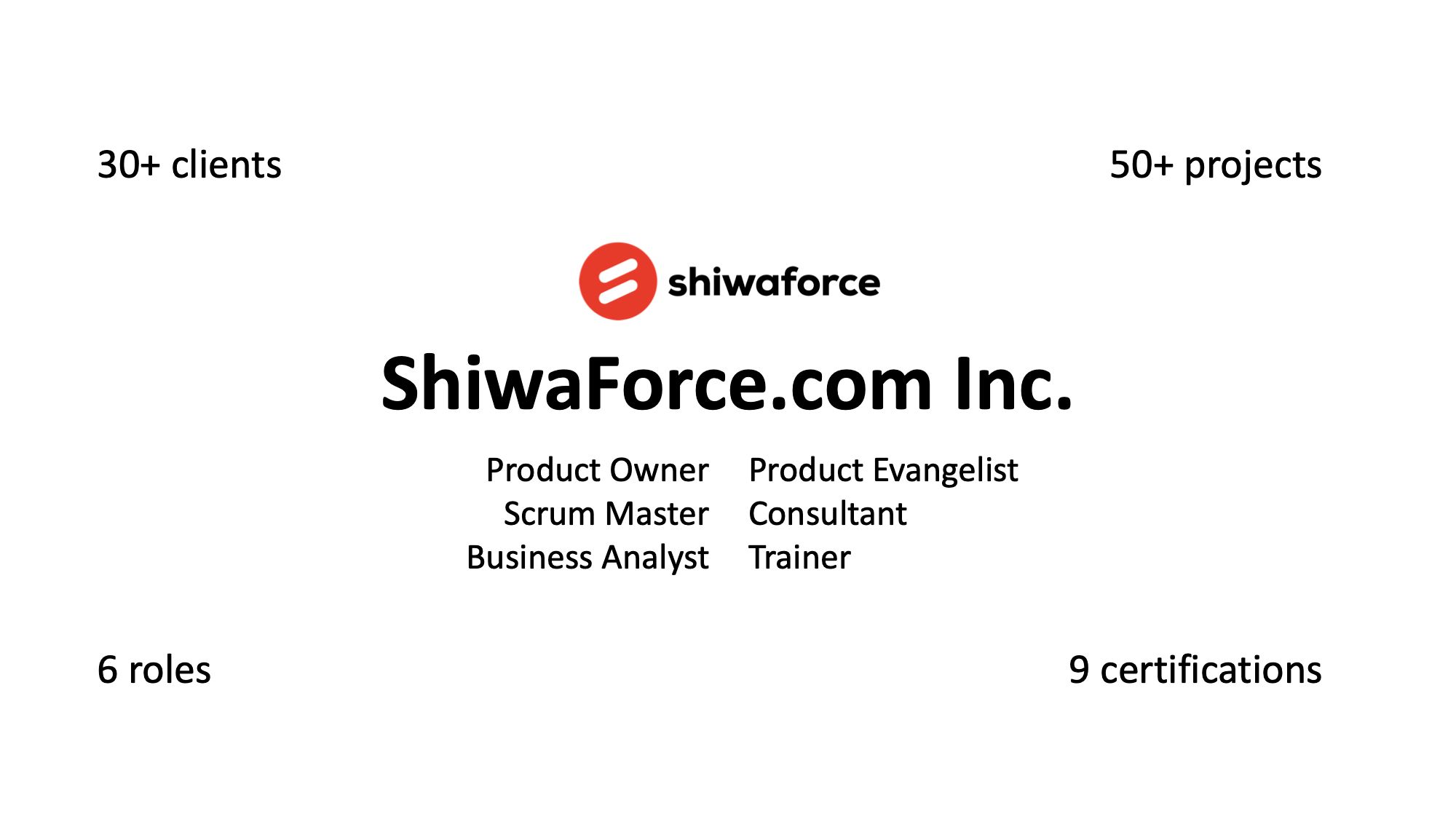 As Product Owner - in the classic Agile/Scrum sense - I'm liaising with the clients, understand their business requirements and translate them into Epics and User Stories for our software development teams to work on. This includes being present on site, having multiple meetings to dive deeply into the domain and scope of the project. Once understood I create the documentation space in our internal knowledge base (Atlassian Confluence) and capture the details. Since this is a living document I keep updating this space with new information as it arrives. Once the contract is in place I then join one of our Scrum teams and start working with them estimating and scheduling the work. At the end of each 2 week long sprints I attend the Sprint Review and accept the completed pieces of work. In some cases this role is even more technical in the sense that I am also responsible for the architectural design of the system, and also work closely with our DevOps team to build the software environments and the Continuous Integration (CI) and Continuous Delivery (CD) pipelines.
As Scrum Master - also in the classic Agile/Scrum sense - I'm working very closely with some of our software development teams (mostly many teams at once) making sure the Scrum rules are followed and applied, impediments are taken care of and monitoring and reporting of the work being done is properly in place.
As Business Analyst I'm working at an even more technical level creating architecture and component diagrams, diving into the deepest levels of the problem domain to understand and document the requirements as they arise.
As Product Evangelist - mostly with three of our in-house built products Scrum Poker, StatusApp and Poco - I produce product introduction videos, write and publish blog articles and represent these products at international conferences and competitions. It's easy to do when you are involved in creating these products since the very beginning and believe that they make life easier for their users and bring in more fun.
As Consultant - mostly under our Active Vision arm - I'm working mostly on either cloud based implementations (Amazon AWS and Google Cloud) or introducing the Atlassian software ecosystem to our clients.
As Trainer - either on site in a classroom or completely remotely on Zoom - I'm teaching various training courses:
Product Owner role training - including an introduction to the agile way of working
Scrum Master role training (basic and advanced) - including preparation of getting an internationally recognised certification from scrum.org
Modern IT & Software Development concepts - a 6 week long course covering 200+ IT concepts, explaining the various roles and technologies from full stack development to mobile applications
DevOps for enterprises - a series of 8 webinars for IT professionals covering each step of the Software Development Life Cycle - also known as the "infinite loop"
Plus, I'm also available as a SAFe 5 Program Consultant (SPC) to teach all things scaled agile from the perspectives of Product Owners / Product Managers and DevOps professionals.
So much about the roles. So who are our clients?
Well, since I cannot disclose any further information on our clients, then let's move swiftly on... ...to the certifications and badges: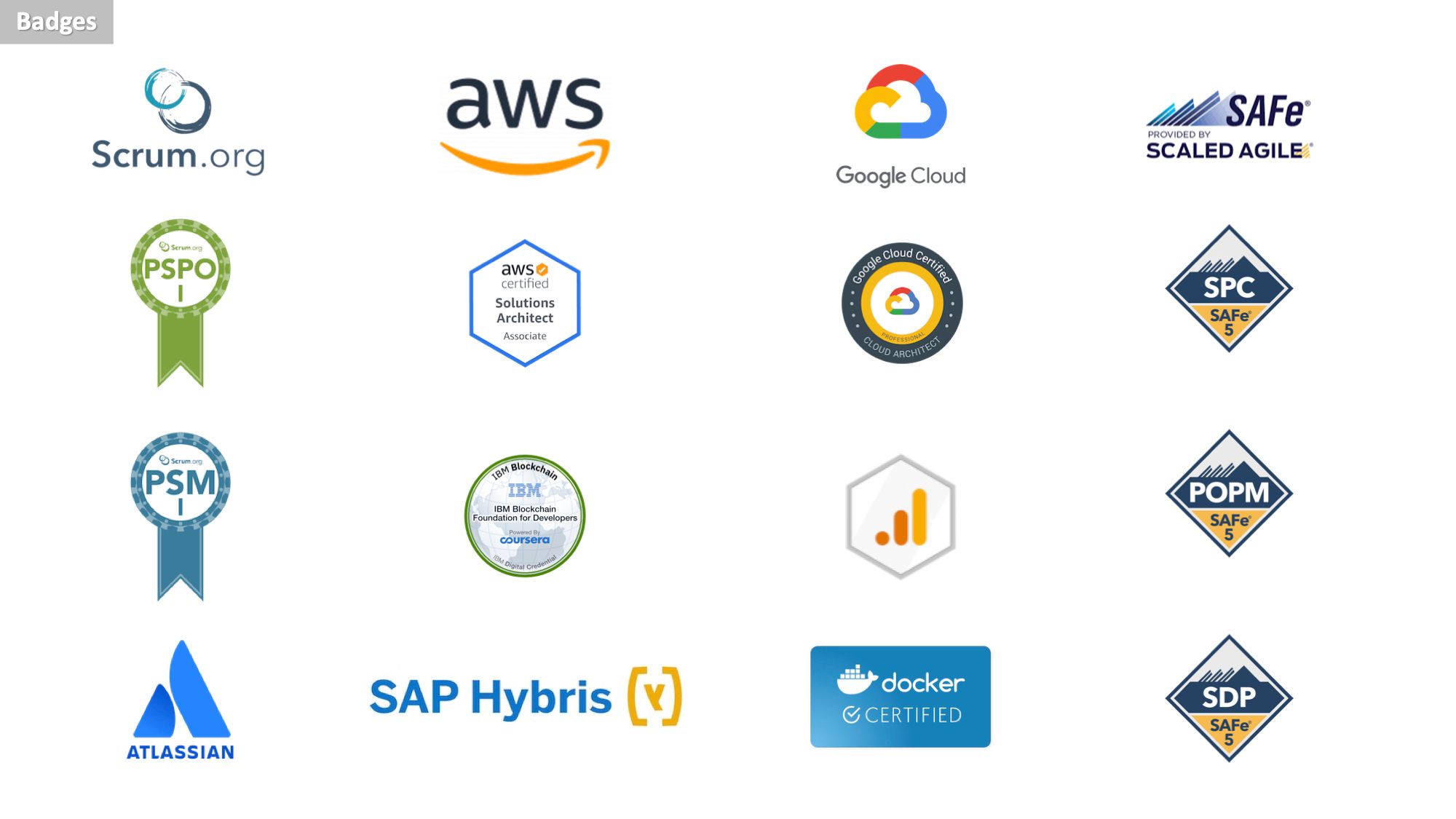 I am most proud of my Google Cloud certification (Google Cloud Certified - Professional Cloud Architect) because this was the exam I enjoyed the most. It was challenging but also very professional and thoughtful. Somehow, the Google Cloud Platform feels more friendly/familiar to me than the "other" one (although I've got that cert too: AWS Certified Solutions Architect).
The "mandatory" certificate was the Google Analytics one and the "bonus" - that I'm also quite proud of - is the IBM Blockchain one.
...and... ...let me stop right here. As said above this story is not over just yet.